Valentines Day is coming quickly! I am not focused on Sunday, but have it perched in the back of my mind. I feel like there has been so much going on in the life of my husband and I that a flowery day in February need not be put on such a pedestal as to take over what is important in our daily lives.
Such as, our working together with grace and love.
For example, our bathroom "remodel", seems to be all consuming.
It is coming along well, but mistakes have been made.
Like my being certain that I could make that warped piece of car-siding work. which it did not. and I had already glued it. and partially nailed it. sigh.
Or my husband accidentally cutting the red wire on the in floor heating mat while cleaning up the floor tiles before grouted. Pulling up tiles were necessary. sigh.
Neither of us got upset at the other when these things
happened. We just helped one another with the process of making things right.
That is for us, in part, what real love is. Working together, not getting mad over the small things in life and laughing with each other....a lot.
We do not get upset if each of us is interested in different things.
For example (again, or would that be redundant?) my hubby likes those detective style TV shows and I do not. We just watch different televisions in our house. No big deal, when the shows are done, we come together to watch what we do like - life is good, and when each of us watch the differing shows, when one falls asleep, the snoring does not interrupt the climactic choice of the perfect wedding dress! (I love you honey!!)
We pray together each night. faithfully. Our love of the Lord and surrender to Him is the biggest part of our love relationship and the most important.
We hug, a lot. We hold each other's hand, talk, and have dinner together.
These small things may not seem like a big deal, but going without them makes such a chasm in a marriage that some cannot bring that breach back together.
We have made it a priority to not allow ourselves to let that chasm even start.
Do we do thing without each other? Yes, yes we do. I do things with my best girlfriends, my hubby plays music with his friends. My hubby does Daddy - Daughter date nights, I have my photography business that takes me away at times.
Life is our Valentine's Day. Will we celebrate the 14th? Yes, but in a small way like a card or candy or something homemade.
Which brings me to this! Some
wonderful homemade items that I have found. Here are a couple that are incredibly easy and are without sugar or artificial sweeteners!
Like this
Quinoa Bark from Half Baked Harvest (which is in my refrigerator right now)
Or these No Bake Chocolate Oatmeal Fudge Bars from Chocolate Covered Kate Oh Yum!!!!!!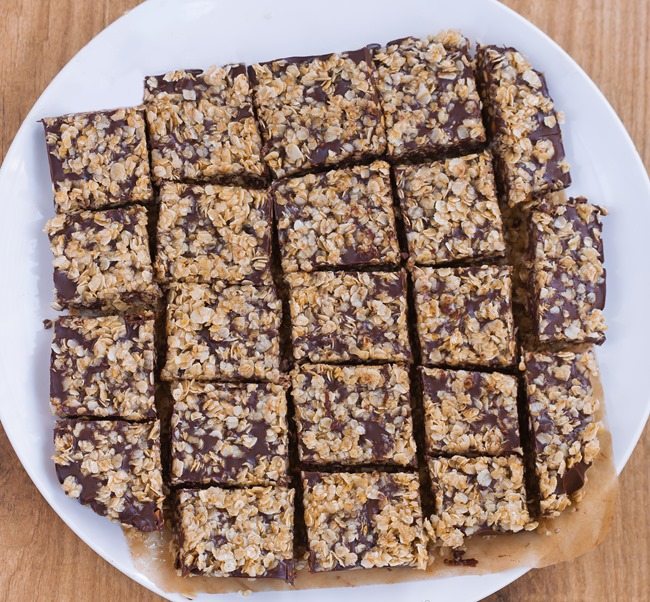 What will you be making or giving this Valentine's Day?
p.s. I think these are just the sweetest gifts to give: "Bee" my "Honey" on Valentine's Day. From Joanna Gaines